Ratcliffe Shore Hatchery Third-Round Winners Announced
11/4/2014 2:07:00 PM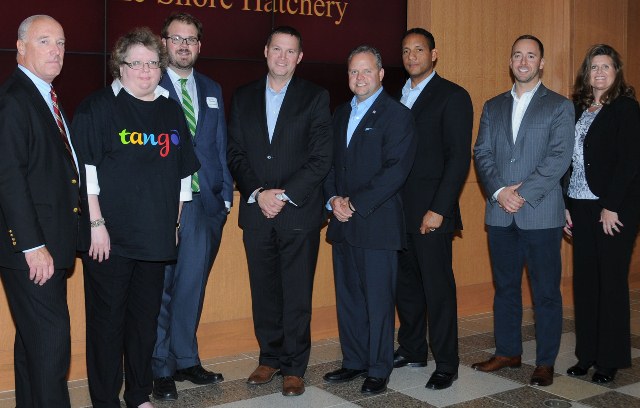 Pictured, from left: William Burke, SU director of entrepreneurship competitions; Shelley Wetzel; Zachary Bankert; Brian Arnold, Dan Cowens, Jason Mathis and Marco Le Gette of Oasis Marinas; and Dr. Christy Weer, interim dean of SU's Perdue School of Business.
SALISBURY, MD---Upscale service at marinas, easier access to tablets and technology-based lead paint inspections soon may be on the horizon.
Those are the dreams of this semester's winners of Salisbury University's Philip E. and Carole R. Ratcliffe Foundation Shore Hatchery program. Their winnings totaled some $75,000, during the third round of the five-year, $1 million initiative to assist entrepreneurs and help them create new jobs.
Judges awarded $30,000 to Maryland-based Oasis Marinas, a proposed consulting and management firm for existing marinas. According to founder and CEO Dan Cowens, many boaters have the same roster of complaints about most marinas: Websites offer little information, telephone calls go unanswered, dock attendants rarely are available to direct boats to their slips, and offices often are unattended for extended periods, making payment difficult.
"The entire experience for someone who just paid $200,000 for a boat would never be tolerated in any other aspect of their life," he said.
The approximately 11,000 marinas in the United States represent a $4 billion industry, according to Cowens. His plan: Make them more like upscale hotels, with online reservations, a full contingent of dock attendants and offices — much like front desks — staffed during regularly posted hours.
"If you went to the Four Seasons and there was a stain on the carpet, that would look out of place," he said. "We want these marinas to be the Marriott or the Four Seasons. You have that gap between expectation and reality. Oasis is the bridge."
He and his team plan to roll out the concept starting next month.
"Our model is simple," he said. "Do it right at one marina and then duplicate it 1,000 times."
[Related Links]Convenience and quality also are the basis for another winning product, Tango, a universal tablet stand and mounting system. Judges awarded its inventor, Shelley Wetzel, $30,000. She said the idea came to her several years ago when she learned about an upcoming product from Apple: the iPad.
"I thought, 'Wow, I want an iPad, and I want it to hang under my kitchen cabinet,'" she said, noting it would be great for following online recipes.
Today, she can do that with products from device accessory manufacturers … but that's all she can do with those products, she said. Plus, they are largely made from plastic and predominately come in basic "tech" colors: black, white and silver. Tango would be the first tablet mount that could convert from a hanging mount to a table stand — and it's portable. Made from anodized aluminum, it also can be a variety of colors and hold any tablet up to 1.5 pounds.
With some 115 million U.S. households (about 54 percent) using some form of tablet, Wetzel believes her invention will become very popular. She holds the patent and is in the process of trademarking the mount. With a price point goal of $49.95, she is hoping retailers including bookstores, catalog stores and even virtual shopping outlets such as Amazon, QVC and HSN will be interested.
For now, however, she plans to begin selling the mounts at home shows. A Salisbury resident, Wetzel also is hoping to keep the product's initial assembly local, possibly contracting with Lower Shore Enterprises for the work.
The final winner, Zachary Bankert, also hopes to keep his startup local. In fact, he expects most of his clientele to come from the Lower Eastern Shore. Bankert received $15,000 to help establish Shore Inspections, a service specializing in non-invasive lead paint inspection.
According to Bankert, nearly 13,000 homes were built in Wicomico, Worcester and Somerset counties between 1950 and 1979. Under new environmental regulations expected to go into effect in 2015, most of them will need to be inspected for lead paint, which was in common use before being banned for household purposes in 1978.
Until recently, lead paint testing predominately was done by testing samples scraped from surfaces in various areas of the home or by analyzing dust from those same areas. The "scrape test," while satisfying long-term requirements for landlords and homeowners, leaves unsightly marks throughout the house, Bankert said. The "wipe test" is less invasive, but in the case of landlords, must be re-done every time a new tenant moves in, often at great expense.
Bankert hopes to offer a third type of test through his company, using a handheld X-ray fluorescent (XRF) analyzer that can "see through" built-up layers of paint to determine the presence of lead in older coats. Not only would this satisfy those long-term testing requirements, but it would not damage the existing paint in any way.
"You're going to see the rental companies flock to this," he said.
One downside of starting such a company is the cost of the analyzer itself, about $17,000, Bankert said. He expects to put the majority of his winnings toward the purchase of his first. And once all 12,000-plus of the Lower Shore's pre 1978 homes have been inspected for lead? He plans to look at expanding into other inspections, including mold.
In addition to funding, Cowens, Wetzel and Bankert — as well as others who did not receive money in this round — will receive mentoring from the program's board of directors. It includes local business leaders such as Frank Gunion, Bruce Rogers, Dave Rommel, Laura Baker, Jean Sewell, Mike Cottingham, Woody Miller and Doug Wilson, among others.
"It's about building mentor relationships and developing a community of entrepreneurs," said William Burke, director of entrepreneurship competitions at SU.
This semester's 15 Ratcliffe Shore Hatchery participants represented the largest group since the program began in fall 2013. Administered through SU's Franklin P. Perdue School of Business, its goal is to fund entrepreneurs and have new businesses opening within six months, with the potential of employing five or more within a year.
The fourth round of the competition is scheduled for next spring, with some $125,000 in seed funding available.
For more information call 410-543-6030 or visit the SU website at www.salisbury.edu.