Ratcliffe Shore Hatchery Winners Announced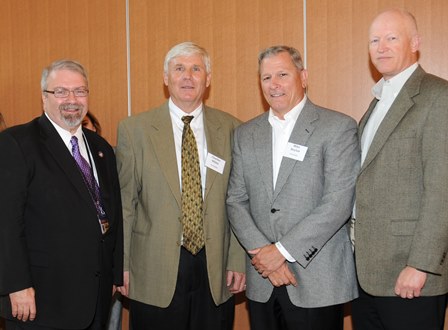 Dr. Memo Diriker, director of SU's Business, Economic and Community Outreach
Network (BEACON), left, and Ratcliffe Shore Hatchery board member Mike
Cottingham, president and CEO of Rommel Holdings, right, congratulate Charles
White and Mike Boylan of PaverGuide on receiving $35,000 in funding from this
spring's competition.
SALISBURY, MD---Members of Salisbury University's Philip E. and Carole R. Ratcliffe Foundation Shore Hatchery board of directors spread the wealth — literally — during the fourth round of the semiannual competition.

Eight Maryland-based startup businesses, representing more than half of this semester's 15 competitors, received funding from the initiative, established with a $1 million gift from the Ratcliffe Foundation in 2013 to assist entrepreneurs and help them create new jobs. Winners included:

•    PaverGuide - $35,000. Producing a lightweight, low-cost pervious paving system, this company hopes to help contractors save on construction labor and materials while providing a high-quality, low-maintenance alternative to traditional brick and stone pavers. Production is planned to take place in Hurlock, MD.

•    NUVU- $25,000. Creators of this app hope it will serve as a nightlife guide and social interaction tool for young adults while providing real-time analytics and advertising opportunities for bars and clubs.

•    Kitchology - $25,000. This app will provide substitution suggestions in recipes for diners seeking to lose weight or managing dietary restrictions.

•    Oasis Marinas - $20,000. Winning $30,000 in last fall's Ratcliffe Shore Hatchery competition, this upscale marina management company returned this semester with a new idea: a "Snag a Slip" website that will allow boaters to reserve marina slips in advance online.

•    Gold Leaf Academy - $5,000. This accredited child care program and private school would serve children ages 6 weeks to 4 years.

•    Kanga Trash and Energy Systems - $5,000. Conceptualized by University of Maryland student Cody Branchaw, this company plans to produce under-seat garbage cans for stadiums and arenas, reducing the number of hours required to clean the facilities after events and decreasing the amount of electricity needed to keep the venues illuminated during cleaning periods.

•    Operation Precision Systems, LLC - $5,000. This company is developing a cloud-based drinking water quality monitoring and management service, with an eye toward expanding into air quality, ground quality and waste management monitoring.

•    IPPS Mentoring Program - $5,000. The first non-profit organization funded by the Ratcliffe Shore Hatchery, this Salisbury-based program provides mentoring services at the Wicomico County Detention Center in hopes of keeping inmates from returning once they have served their sentence. With the funding, IPPS board members plan to expand the initiative to the Poplar Hill Pre-Release Unit this summer.

In total, the Ratcliffe Shore Hatchery distributed some $125,000 this semester for a total of $200,000 this academic year. The fifth round of the competition is scheduled next fall, with some $200,000 in seed funding available."The judges continue to be impressed with what they're seeing each semester," said William Burke, SU director of entrepreneurship competitions. "They had an especially tough time this round, and the number of prizes awarded reflects that."

Administered through SU's Franklin P. Perdue School of Business, the goal of the Ratcliffe Shore Hatchery program is to fund entrepreneurs in the mid-Atlantic and have new businesses opening within six months, with the potential of employing five or more within a year.

In addition to funding, winners and participants also receive mentoring support from the program's board. Members include business leaders such as Jim Perdue of Perdue Farms, Dave Rommel and Mike Cottingham of Rommel Holdings, Frank Gunion of South Moon Under, Laura Baker of Draper Holdings, Jennifer Layton of Layton's Chance Vineyards and Winery, Bruce Rogers of Sherwood of Salisbury, Katherine Kiernan of APPI Energy and Sandy Fitzgerald-Angello of Pohanka Automotive Group, among others.

This semester's Ratcliffe Shore Hatchery competition was part of SU's inaugural Entrepreneurship Week, which also featured the University's annual student Entrepreneurship Competitions and, in connection with 47 ABC, a casting call for the ABC-TV hit series Shark Tank.

The next Ratcliffe Shore Hatchery submission period is August 17-September 21. For application materials and more information visit www.salisbury.edu/perdue/shorehatchery.